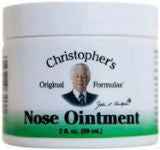 Nose Ointment
Nose Ointment - by Dr. Christopher's Original Formulas - 2 oz.
A blend of herbs to help support the body's efforts to relieve nasal congestion and dry or chapped nostrils.  This is a natural antihistamine. Apply to the inside of nose when it is congested¸ dry¸ sensitive or chapped
Ingredients: Castor oil, Spearmint oil¸ Peppermint oil and Beeswax.
 Click here for more information  http://www.zhealthinfo.com/doctor.htm#Nose