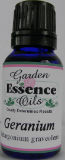 Geranium
Geranium  (Pelargonium graveolens) Essential oil by Garden Essence.  100% pure, single species, first distillation, guaranteed free of pesticides and herbicides. 
Aromatherapy use: Dysentery, hemorrhaging, ulcers, healing for wounds and fractures, cellulite, calming to nervous system in small amounts and stimulating in large amounts, mood uplifting, stimulates adrenals, repels insects, and soothes insect bites, lice, ticks.
Depression, Burns, Diarrhea, Breast engorgement in Nursing Mothers, Jaundice, Kidney Stones, Ringworm, Shingles, Sterility, Menstrual Problems, Diarrhea, Diabetes, Sores, Neuralgia, Bleeding, Circulatory Conditions, Eczema, Sore Throats, Nervous Tension, Kidney Stones. It seems to be an adrenal cortex stimulant.
Blends well with: basil, bergamot, citronella, clary sage, fennel, grapefruit, jasmine, juniper, lavender, lemon, lemongrass, neroli, nutmeg.