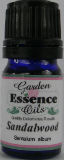 Sandalwood Indian Mysore
Sandalwood  Santalum album - Select India or Indonesia - Essential oil by Garden Essence. 100% pure, single species, first distillation, guaranteed free of pesticides and herbicides.
Common Uses: Sandalwood East Indian is used by aromatherapists to combat Acne, Bronchitis, Cough, Diarrhea, chapped and dry skin, depression, Gonorrhea, Hiccough, Insomnia, laryngitis, leucorrhea, oily skin, scars, T.B. Vomiting, Catarrh, Menstrual Problems, Cystitis, Skin Infections, Fungal and Bacterial Infections. (Sedative).. sensitive skin, stress, and stretch marks. It also has historical applications as an aid in meditation for religious ceremonies. Sandalwood East Indian is believed to create an exotic, sensual mood with a reputation as an aphrodisiac. It also has extensive uses in the perfume industry as a fixative, and use in body care products for the fragrance it provides.
Blends well with: Rose, Clove Bud, Lavender (All types), Geranium, Vetiver, Patchouli, Jasmine, Peru Balsam, Benzoin, Bergamot, Clary Sage, Coriander, Cypress, Fennel, Frankincense, Galbanum, Myrrh, Palmarosa, Pepper, Peppermint, Spearmint.