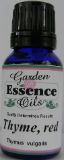 Thyme - Red
Thyme, Red  (Thymus vulgaris) - Spain - Essential oil by Garden Essence. 100% pure, single species, first distillation, guaranteed free of pesticides and herbicides.
Aromatherapy: Bacterial Infections, Lethargy, Urinary Infections, Rheumatism, Sores, Viral Infections, Wounds. (Stimulant, Tonic, Raise Immunity)
This essential oil has been used effectively as a bactericide, antiseptic, antimicrobial, astringent, antispasmodic, antitoxic, diuretic, antifungal, insecticide, tonic, and as an immune stimulant. Thyme oil can assist with nervous complaints, respiratory problems, poor circulation and problems of the digestive system.
Blends well with: Bergamot, Grapefruit, Lemon, Lavender, Rosemary and Pine.