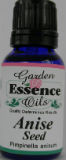 Anise Seed
Anise Seed - (Pimpinella anisum)  - Egypt -  essential oil by Garden Essence for all your aromatherapy and culinary needs.  Some historical uses: relieve the pain of indigestion, colic, flatulence and bloating. Since ancient times Anise has been used to loosen phlegm and eases the discomforts of bronchitis, asthma and coughs. Boost your immune system – and try it for bad breath too! Also good as a food flavorant, and for infant catarrh, flatulence, colic, griping pains, painful periods, promote breast milk, dry irritable cough, bronchitis, whooping cough.
Blends well with: Amyris, bay, cardamom, caraway, cedarwood, coriander, dill, fennel, galbanum, mandarin, petitgrain, rosewood.
This statement has not been evaluated by the Food and Drug Administration. This product is not intended to diagnose, treat, cure or prevent any disease.