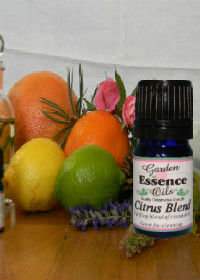 Citrus Blend
Citrus Blend  Essential oil by Garden Essence. Made with 100% pure, single species, first distillation, guaranteed free of pesticides and herbicides essential oils.
May help children gain the feeling of well being.  Putting a drop or two in a glass of water to flavor it may help to balance the lymphatic system and stimulate the immune system.  Its' Antiseptic qualities may help with airborne bacteria when diffused.  It may also be helpful for relaxing, calming and insomnia. 
Ingredients:  Orange, Tangerine, Mandarin, Grapefruit, Lemon, Spearmint.     
If you like "Citrus Fresh TM " - you'll love Citrus Blend. The indicated trademark is the property of Young Living Essential Oils, Lehi, Utah.