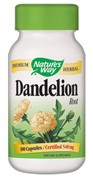 Dandelion Root
Dandelion Root 540 mg by Natures Way.
Dandelion is a popular bitter with a long history of use as an herbal remedy. Dandelion's name comes from the French "dents du lion," or "teeth of the lion," due to the shape of the leaf.
Potassium-rich Dandelion has been called the "free health food pharmacy" that grows everywhere! Both leaves and roots are considered to be a superior natural diuretic, fine blood cleanser and excellent tonic  that can help detoxify the system, especially the liver and gallbladder.  For an overall feeling of good health and improved mobility, you'll want to add this "wondrous weed" to your herbal regimen.
Today, Dandelion leaves are commonly recommended as a food supplement for pregnant and postmenopausal women because of the numerous nutrients they contain. This plant produces a mild diuretic effect and reduces serum cholesterol levels. Dandelion root is used to improve appetite, minor digestive problems, and works as a milk laxative. Some modern naturopathic physicians believe that it can help detoxify the liver and gallbladder. Clinical trials have shown Dandelion to be effective in treating pneumonia, bronchitis and upper respiratory infections. It also helps with kidney function, pancreas, spleen, stomach, tinnitus, tonsillitis, osteoporosis, abscesses, anemia, boils, breast tumors, and cirrhosis of the liver, fluid retention, hepatitis, jaundice, rheumatism and warts. Dandelion may aid in prevention of age spots and works well in treating warts, fungus infections, and external and internal malignant growths. It is also used for treat skin problems such as acne, eczema, psoriasis, and arthritis conditions. This plant is used for ulcerations of the urinary passages, obstructions of the liver, gallbladder, and spleen. The roasted Dandelion root can even be used as a coffee substitute.
Directions:
Take 3 capsules two times daily, preferably with food.
Serving Size: 3 Capsules
Amount/Serving
%DV
Calories
5
 

---

Dietary Fiber
<1g
2%**

---

Dandelion (root)
1.57g
*

---
Caution: Consult a healthcare professional before use if you have blockage of the intestines or bile ducts or inflammation of the gallbladder.
**Based on 2000 calorie diet.
Other Ingredients
Gelatin (capsule), Magnesium stearate