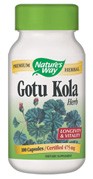 Gotu Kola Herb
Gotu Kola Herb 475 mg by Natures Way
Gotu Kola is used in India similar to how the Chinese use Ginseng. Although its name is similar to cola nut, Gotu "Kola" does not contain caffeine.  Gotu Kola is widely used for vitality by individuals wanting to avoid caffeine as a part of their diet.
Gotu Kola significantly improved the symptoms of varicose veins such as the overall discomfort, tiredness, and swelling; however, it is not thought to do much for the appearance of veins that are badly damaged. It has been suggested that hemorrhoid sufferers could use Gotu Kola for the treatment of their symptoms since hemorrhoids are a type of varicose vein. Gotu Kola is also used to improve memory and can be beneficial to Alzheimer's patients. It is also still used to heal wounds and alleviate the symptoms of scleroderma. This plant has also been used to help treat high blood pressure, abscesses, rheumatism, fever, ulcers, leprosy, skin eruptions nervous disorders and jaundice. The fresh leaves can be given to children for dysentery. An extract of the oil is used to promote hair growth. Gotu Kola is known to thin the blood, and, in large dosages, can help lower blood sugar levels.
Directions:  Take 2 capsules daily, preferably with food.
Serving Size: 2 Capsules
Amount/Serving
%DV
Total Carbohydrate
1g
<1%**

---

Sodium
5mg
<1%**

---

Gotu Kola (stem, leaf)
950mg
*

---
Nature's Select®
Other Ingredients - Gelatin (capsule), Magnesium stearate