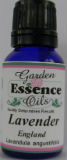 Lavender - English
Lavender English, Organic  (Lavandula angustifolia) - England - Essential oil by Garden Essence. 100% pure, single species, first distillation, guaranteed free of pesticides and herbicides. 
The Universal Oil- Burns, Inflammation, Cuts, Wounds, Eczema, Fainting, Headaches, Hysteria, Migraine, Nervous, Tension, Infections, Bacterial, PMS, Conditions, Ulcers, Acne, Abcess, Carbuncles, Colic, Convulsions, Depression, Dermatitis, Diarrhea, Diphtheria, Boils, Asthma, Psoriasis, Earache, Epilepsy, Fistula (anal), Gonorrhoea, Halitosis, Insomnia, & Depression, Migraine, Nausea, Leucorrhoea, Laryngitis, snake bite & insect bites (Strong anti-venom properties - don't substitute for health practioner - emergency only).
Blends well with: bay, bergamot, chamomile, citronella, clary sage, geranium, jasmine, lemon, mandarin, orange, palmarosa, patchouli, pine, tangerine, thyme, rosemary, rosewood, ylang ylang.