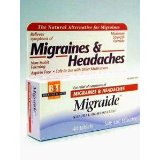 Migraide
Migraide by Boericke & Tafel 40 tablets
Migraide is a homeopathic combination that may help relieve symptoms associated with migraine headaches in adults and children.
Cyclamen Europaeum (sowbread) 3X, Cimicifuga Racemosa (black cohosh) 3X, Gelsemium Sempervirens (yellow jasmine) 3X, Iris Versicolor Lactose, Microcrystalline Cellulose, Magnesium Stearate.
Sublingual medication. Place tablets under tongue & let dissolve. Adults & child 12 years of age & older: 3 tablets every hour until symptoms subside, then every 2 hours until relieved. Child 2 to 12: Half adult dose. Child under 2: Consult a physician.
For relief of Migraine Headache. All-Natural Homeopathic. For temporary relief of minor aches & pains associated with migraine headache. What is a migraine headache? Migraine headaches are periodic, severe & unusually throbbing. While they generally start on one side of the head, the pain may spread to the rest of the head & sometimes include the face. The pain is not infrequently preceded by temporary visual disturbances & at its peak, may be accompanied by irrability, nausea & vomiting. Migraines often run in families.