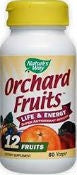 Orchard Fruits
Orchard Fruits  by Nature's Way. 
Each Orchard Fruits™ capsule contains a full spectrum of phytonutrients taken from 12 whole fruits. Tests show Orchard Fruits delivers more antioxidant capacity (ORAC) than other brands.

Unique flash-glancing: Made under low temperature, Orchard Fruits™ contains nutrients and enzymes not found in other products. Immediate absorption: Because Orchard Fruits™ contain no binders and no excipients, its nutrients are quickly absorbed into the bloodstream. 100% dried, whole fruit juice
Directions:
Take 2 capsules daily with water at mealtimes. Two capsules are equivalent to the antioxidant value of a serving of fruit.
Serving Size: 2 VCaps

Amount/Serving

%DV

Total Carbohydrate

<1g

<1%**

---

Vitamin C

3mg

5%

---

Proprietary Fruit Juice Blend 
Plum Juice Powder; Cranberry Juice Powder; Blueberry Juice Powder; Strawberry Juice Powder, Blackberry Juice Powder; Bilberry Juice Powder; Cherry Juice Powder; Apricot Juice Powder; Papaya Juice Powder; Orange Juice Powder; Raspberry Juice Powder; Pineapple Juice Powder

900mg

*

---