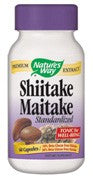 Shiitake Maitake
Product Information:
Shiitake, Maitake Standardized 60 Capsules by Natures Way.
Mushrooms provide a wealth of protein, fiber, B vitamins, and vitamin C, as well as calcium and other minerals. And at least three species have demonstrated phenomenal healing potential: maitake, shiitake, and reishi. These medicinal mushrooms have been shown to boost heart health; lower the risk of cancer,; promote immune function; ward off viruses, bacteria, and fungi; reduce inflammation; combat allergies; help balance blood sugar levels; and support the body's detoxification mechanisms.
Why are medicinal mushrooms becoming increasingly popular in North America? Harriet Beinfield, acupuncturist and co-author of Between Heaven and Earth: A Guide to Chinese Medicine, explains: " the movement began with healthy food in the late '60s; now it's health medicine. People are interested in medicinal mushrooms because they've been used effectively for thousands of years".
Maitake, shiitake, and reishi mushrooms have many overlapping properties: all boost immune function, all support cardiovascular health, and all show promise in lowering the risk of - or treating - cancer. However, maitake is specifically recommended for the stomach and intestines, as well as blood sugar levels; shiitake treats nutritional deficiencies and liver ailments; and reishi promotes respiratory health and spirituality.
Directions:
Take 1 capsule one to two times daily, preferably with food.
Serving Size: 1 Capsule
Amount/Serving
%DV
Oat (grain)
200mg
*

---

Shiitake Mushroom extract (stem, fruiting body), 10% extract Beta Glucan
100mg
*

---

Maitake Mushroom extract (stem, fruiting body), 30% Beta Glucan
100mg
*

---
Caution: Consult a healthcare professional before taking this product if you are pregnant or nursing a baby.
Other Ingredients - Gelatin (capsule), Cellulose, Magnesium stearate, Silica